Closter Hardwood Flooring
Many people dream of having hardwood flooring for their homes or buildings. It just exudes that sophisticated and classic appeal that is guaranteed to impress anyone who sees it.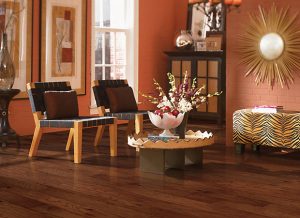 A home with hardwood flooring gives off that luxurious but homey vibe. If you want to achieve that for your space, Martinez Flooring and Fencing can give you your dream Closter hardwood flooring.
Hardwood flooring is your best option if classic, elegant, and durable flooring is what you want for your space. Let our Closter flooring company work with you to ensure expert installation and high-quality products for your project.
Call Martinez Flooring and Fencing at (201) 529-6003 for your Free Consultation!
Benefits of Hardwood Flooring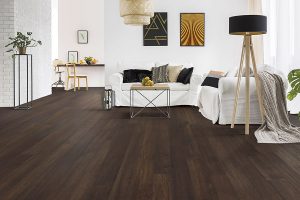 Hardwood flooring is a top choice among homeowners because it comes with several benefits. Here are some of them:
1. Easy to Clean and Maintain
It's simple and easy to maintain hardwood flooring. You just need to clean, vacuum, and mop it regularly. You must also keep it dry at all times. To clean spills or messes, you just have to wipe, mop, or sweep your hardwood floors.
2. Durability
Hardwood flooring is known to be one of the most durable types of flooring. When properly installed, it can even last for several decades. It's less prone to damage and rarely gets scratched or cracked. For those rare scratches, it can easily be fixed with the help of polyurethane coating.
3. Wide Variety of Wood Types
Hardwood flooring can be made out of various wood materials. There are so many wood types to choose from like Australian Cypress, Brazilian Cherry, Brazilian Chestnut, Hickory, Red or White Oak, Santos Mahogany, Teak, Tigerwood, and many more. You can choose the most suitable type of wood material depending on your budget and availability of the flooring product.
4. Increases Value of Residential Property
Hardwood flooring increases your home's overall value. It's known to be long-lasting and durable, which is a plus for every homeowner. Hardwood flooring is guaranteed to make a great impression when you show off your home.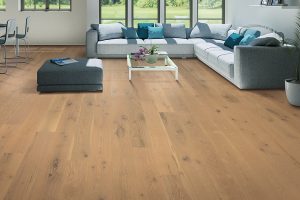 5. Improves Air Quality
Other flooring types trap mites, dust, animal hair, dirt, and grime, which can trigger your family members' asthma or allergies. Hardwood does not trap any contaminant, which results in clean and healthy indoor air.
6. Decorative Versatility
Hardwood flooring is versatile and goes with any style or theme of a room. It also makes an area look more spacious. This flooring type adds a touch of elegance and class to any room. Hardwood flooring is the best flooring option for you if you want to turn your home into a stylish and sophisticated space.
7. Improves Acoustics at Home
One of the lesser-known qualities of hardwood flooring is it can improve the acoustics in a room. This flooring type reduces hollow sounds or vibrations, which is why it's used in dance or music studios.
8. Environmentally Friendly
Unlike other flooring types, hardwood is all-natural. If you decide to replace your hardwood flooring, it will decompose and transfer its nutrients to the ground instead of sitting in a landfill.
9. Long-term Investment
Installing hardwood flooring for your residential or commercial space can be considered a long-term investment since this flooring type can last for over a hundred years if installed and maintained properly. The value of wood also increases with time, which makes it an excellent investment.
10. Non-toxic for Babies and Pets
Since it's harmless and non-toxic for both babies and pets, hardwood flooring is suitable for playrooms or kids' rooms. Another reason why it's kid and pet-friendly is it's easy to clean spills or messes on hardwood flooring.
Closter Hardwood Flooring Experts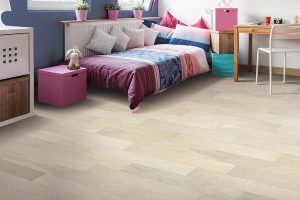 If you want to get the best value for your hard-earned money, you won't go wrong with Martinez Flooring and Fencing. We aim to provide the highest quality of materials and flawless installation services at reasonable rates.
We want to help you get your dream floors without breaking the bank. So for your Closter, NJ hardwood flooring project, Martinez Flooring and Fencing is definitely the one you should call.
Free Consultations
Martinez Flooring and Fencing is a reliable flooring company that you can count on when it comes to hardwood flooring installation. To help you with your flooring project, we offer free initial consultations with one of our flooring experts. During the consultation, you can tell us all the necessary details about your flooring project, like your desired look, budget, and deadline. We'll give you sound advice, and should you decide to work with us, we can get started on planning your dream Closter hardwood flooring. We guarantee that we'll do our best to give you the perfect floors that you want for your residential or commercial space.
Call Martinez Flooring and Fencing at (201) 529-6003 for your Free Consultation!